Route Management™ for Unitech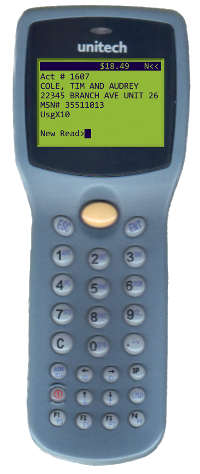 Route Management™ was originally built for the Psion™ Workabout series of handheld computers, and was refined over the years based on feedback from our users. Because these units were discontinued by Psion, we've taken what you like about the Route Management™ system and implemented it specifically for the new Unitech HT630 handheld computer.
Features:
No batteries to change - The HT630 uses a rechargeable lithium-ion battery pack that provides over 10 hours of constant usage. Another lithium battery serves as a backup power source to retain your readings should you ever loose main power on the unit.
USB Connection - Communication happens through a USB communication cable, no serial port necessary.
Windows Vista/7 Compliant - Connection drivers are included for compliance with the latest versions of Windows®
Transfer From any Screen - The HT630 always listens for a connection, even when turned off. There is no special connection screen you have to open to transfer data to and from the handheld.
Automatic Date/Time Sync - When downloading to the HT630, the date and time on the handheld is synced to your computer's date and time
Single Handed Operation - The slim, ergonomic design of the HT630 allows for single-handed reading entry.
Phosphorescent (Glow in the Dark) Keypad - See what you are typing in poorly lit conditions.
Using the Unitech HT630 to read your meters reduces errors and saves time during the reading process. Readings are entered once, and during each entry the HT630 checks to ensure the reading entered was within a normal range. If there was a mistake made when entering a reading, the reader has a chance to correct the problem out in the field instead of making a separate trip later. Can't read a meter? You have the ability to estimate, skip, and/or assign status notes to any account. The reader will also have the ability to view balances, prior readings, and notes on the accounts, however there are options to suppress some of this information if desired.
Please contact RVS Software for current pricing on Route Management™ packages.

Unitech is a registered trademark of Unitech Electronics Co., Ltd.