Online Payment Options
RVS is now working with companies to bring you more payment options to provide to your customers. Whether you need online payment solutions or simple credit card equipment for your office, RVS can accommodate your credit card payment needs.
---
PayClix® Online Payment Authorization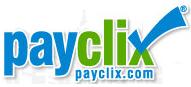 For RVS Mosaics users who wish to provide online payment solutions to their customers, RVS has created a payment processing interface to the PayClix® online system. Customers can go online and review their account balance and make a payment using the PayClix® secure servers. Once the payments are completed, these payments may be imported into RVS Mosaics automatically.
(Visit PayClix® Website)
---
Although RVS provides interfaces to the companies listed above, we also offer custom payment integration development services to allow RVS Mosaics the ability to interface with other online payment solutions.
Please contact us for more information on custom options if you already have a merchant account, or feel the companies mentioned above will not fit your payment processing needs.